Activities Office Updates
As we prepare for the beginning of a new school year, we want to keep you updated on events and information you need to know related to activities at AHS.
Activity Registration
Activity registration is now open for the 2021-22 school year.  If your student will participate in a 2021-2022 sport, cheer, dance, marching band or show choir, we ask you to complete this online registration by Tuesday, August 3. Please note that registrations must be updated yearly; 2020-21 registrations are not valid for the 2021-22 school year even if the physical is not expired.  Complete information regarding activity registration can be found by clicking here.
Activity Passes
We are pleased to be able to offer activity passes once again.  Passes may be purchased online using your student's TouchBase account through Sunday, August 8.  After that time, activity passes must be purchased in-person at your student's school.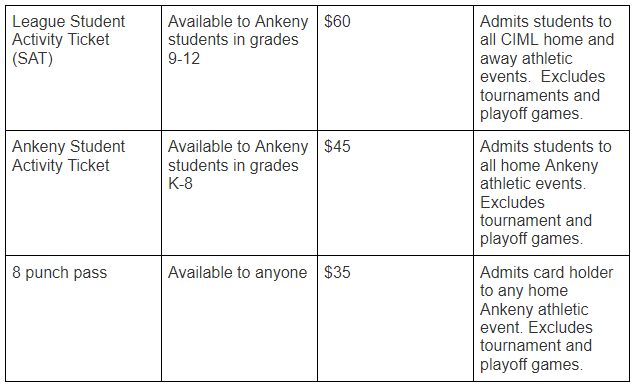 For more information on passes and event pricing, please visit our activities ticket webpage.
Save the date!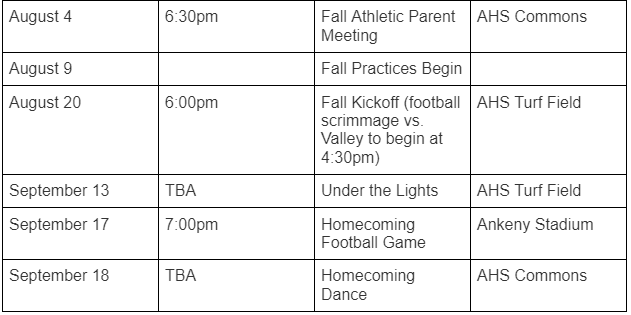 Click here to view the calendar for a full listing of AHS events and activities.
The Activities Office is Moving!
The activities office is being relocated to the north end of the building near the gyms and new weight room.  Students and parents will be able to find us at the end of the activities hallway in room 1607.
We're looking forward to a fun and successful 2021-22 school year.  Don't hesitate to reach out with any questions you or your student may have.  
Andy Umthun
Activities Director
andy.umthun@ankenyschools.org
Tom Day
Event Coordinator
tom.day@ankenyschools.org
Sarah Murphy
Activities Secretary
sarah.murphy@ankenyschools.org